Gloucester Brewery is delighted to reveal its new beer to mark the appointment of a new head coach at Gloucester Rugby.
By George has been created following the announcement of George Skivington at the Cherry and Whites.
The beer will be available from August 10th but you can pre-order it now from the Gloucester Brewery online shop.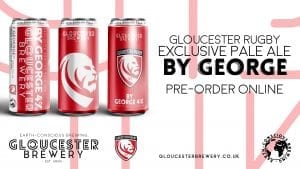 Managing Director Jared Brown said he was delighted to be able to bring out the new beer.
"We created this exclusive limited edition beer to celebrate the appointment of the new head coach. By George combines a blend of English malts and fruity hops to offer a perfectly balanced English Pale Ale."
By George is Vegan friendly and comes in at 4% ABV. It costs £30 for 12 or £55 for 24 440ml cans. To order visit our online shop.