We have taken the decision to move from mainly bottling our beers to 100% canning them instead. From March 15th, Gloucester Brewery favourites Gloucester Gold, Dockside Dark, Priory Pale, Cascade and our new English Craft Lager will be in 500ml cans. 
Here, MD Jared explains why:
''Over the last few years, we've been testing the difference between bottled beers and canned beers extensively with the view that surely beer tasted better in a bottle than in a can. However, despite wanting to prove this hypothesis correct, we finally came to the conclusion earlier this year that in fact, when blind tasted, craft beer from a can did indeed taste better than from a bottle."
With demand for our beers soaring during lockdown we used a third party to package our cans of SIPA, NEIPA, and APA beers. Whilst overall the results were fantastic, in the end we decided the best way forward for delivering the high quality and consistency we wanted, was to invest in our own canning line and bring the whole process back in house. This allows us to package the freshest and most tasty beer for you, our customers! It also heavily reduces the travelling distance for the beer, and all the carbon emissions associated with it.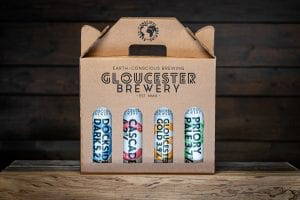 We took delivery of our Micro Canning line in October last year and canned our first batch of NEIPA on 17th November 2020. We're over the moon with the results and so are our customers.
There are also numerous other benefits to canning beer over bottling that have been highlighted below, so we hope you'll join us celebrating this new move and will enjoy Gloucester Brewery beers more than ever, now served in a can!
Why canned beer is better than bottled beer:
It stays fresher longer as cans block out all light and oxygen from getting in. This is particularly important for our beers which are unfiltered, unpasteurised and live (meaning they pour naturally hazy and contain live yeast).

Its easier to transport and safer than glass

Its more environmentally friendly being lighter in weight and more recyclable than glass.
We maintain our pledge to become carbon neutral by the end of 2022, this move to cans is another step in our fight against climate change."
Our existing cans will now be available in the bigger size at no extra cost. Some bottles are still available, while stocks last.To view our range of beers, visit our shop.